Guide to How to Make a Public Profile on Snapchat
Snapchat's new Public Profile feature allows users to connect with a larger audience. What is a Snapchat Public Profile?
Snapchat is a popular social network service that has a large following from all over the globe. Since its launch in 2011, Snapchat has made great strides and continues to amaze users with new features. A new feature was added to the social media app that allows users to add music and images to videos. The update also includes other changes. Snapchat users can also switch from their regular profile to Public.
What is a public profile on Snapchat?

Snapchat allows users to share photos, videos, and other content with a wider audience. A Public Profile allows you to connect with your followers and be found on Snapchat. Although these profiles were available on Snapchat, celebrities and content creators were not allowed to use them.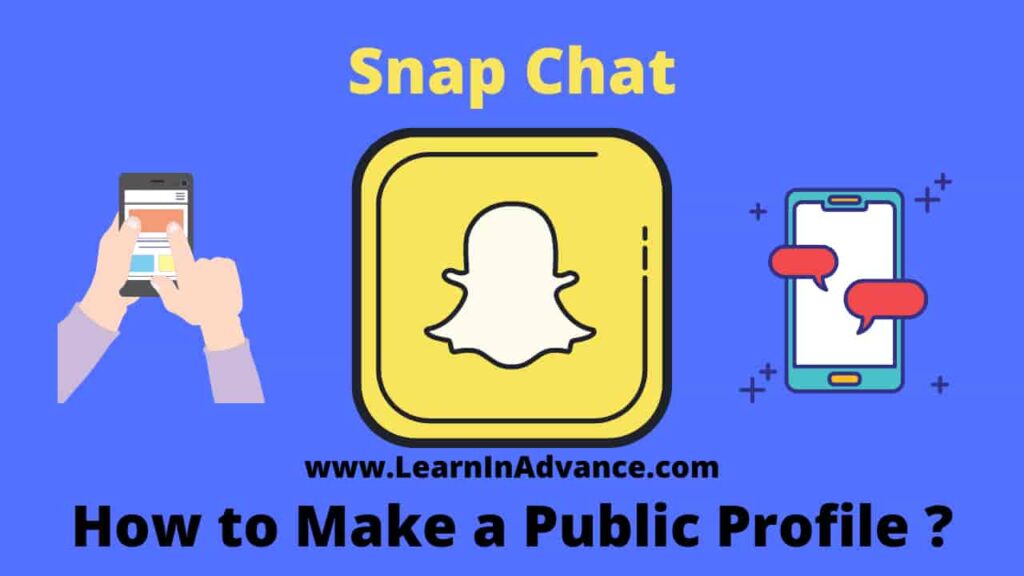 How to get a public profile on snapchat?

Snapchat doesn't have a way to make a Public Profile. While the company initially limited access to the feature to a few users, it will soon be available to all users. Users will be able to modify their profiles by adding a bio and photo to their profile, as well as email address, URL, and other information to display to their fans.
A Highlights tab will be available in the Public Profile. This allows users to highlight photos and videos. A new Lenses tab will be available that will highlight the content created using Lens Studio. It is recommended that you use Lens Studio to create Lenses if you want to become a Public Creator. To grab Snapchat's attention, you can be creative with your content. You can create a Snapchat Creator account to give other Snapchat users the ability to manage your Public Profile. This allows you to assign special roles.
How to Make a Public Profile on Snapchat?

Snapchat has been distributing basic public profiles for more than a week. This update is being distributed in batches to different regions. It might take some time for it to appear in your app, depending on where you are located. To create a Tier 1 Public Profile, you'll need to make your profile public. Once you have this feature, let's see how to create a "Public Profile".
After you've made the necessary changes, close Snapchat and restart it.
That's it! Now you can make your profile public. All your friends will be able to see your profile in suggestions.
Create a public profile

Open Snapchat. Tap the profile icon at the top. Depending on the version of Snapchat, you will see a new option called Add to Snap Map'. Tap the '3 dots icon to the right of this option.
Notice: If you have trouble accessing the "Create Public Profile On Snapchat", you might be able to use a VPN to move your location to the USA. This trick seems to work only for some users. If this doesn't work wait for Snapchat to release Public Profiles in your area.
Snapchat will now show you all the features of a Tier 1 public profile. To continue to the next step, tap on "Continue" at the bottom.
Snapchat will now display a disclaimer regarding creating a Public Profile. To move on to the next step, tap on "Create".
You will be taken back on the Settings page. There should be a new section called "Public Profiles" with a new "My Public Profile" under it. To get started, tap on it.
What are the benefits of a "Public profile"?

Snapchat has several types of public profiles. These are used to distinguish between different creator tiers. While most profiles require you to apply for approval, creating a basic public profile is free. This feature is available to all Snapchat users. Let's look at the main features.
Exposure to Snap Map and Public Stories content
Subscribe button for your viewers
Highlights section
All Snaps that are made publically will include your name.
Your Lenses will also become public (this includes your creations and favorites).

There is a difference between "Going Public" and "Public Profile".

You can make your Snapchat profile public by changing the privacy settings. This feature has been available for some time. By making your profile public, your friends and groups can view your snaps and stories publicly. You can also make your snaps and stories available to anyone who is not on your contact list.
Although it is a great way for people to get to know each other, you are at the mercy Snapchat's algorithm. It can suggest your profile to any person in your Snapchat circle. Going public won't help you reach a wider audience, but it will allow you to connect with your friends.
Snapchat does not make your friend count available via your profile. However, most social media platforms do. It's easy to see how many friends you have using the trick that we've explained step-by-step.
How to See How Many People You Have On Snapchat?
Navigate to the map screen.
Tap the settings icon at the top right corner.
Find the heading "WHO CAN VISIT MY LOCATION?"
Tap "Only These Friends"
Find the heading "ALL FRIENDS" and tap the "Select All" option to the right.
Navigate to the profile screen.
Scroll down to find the "SnapMap" section.
Below the map image you will see text that reads "Sharing location with [X] friends."
You will replace [X] with the number of Snapchat friends you have.
It takes only a few minutes to find out how many Snapchat friends you have. Once you know how many Snapchat friends are available, you can revert your map settings to the way they were before you shared your location with your friends.
Now you should know how popular Snapchat is. You can also let us know how many Snapchat friends you have by leaving comments.
Similar: What is Snapchat Headspace? And How to Use It
Snapchat has added a new feature called 'Public Profile' to its platform. Snapchat also offers the 'Snap star' profile, which has more perks than a Public Profile.
Public Profiles are basically a new account that allows you post content in a different way. Your public profile will have its own privacy settings, stories and highlights. Users can use this platform to showcase their talents, create interesting content, etc.
This is a follow-up to a poor reception for Snapchat TV's feature. Only verified Snapchat profiles that met the criteria were eligible for this feature. It was great for sharing content but it was only available to a select few. Snapchat seems to have realized the importance of providing platforms for emerging artists and the new "Public Profile" feature seems to reflect this realization.
This guide should help you understand the differences between a basic and public Snapchat profile. If you have any questions regarding creating a public profile, please use the comments section below.
Tags:
how do you get a public profile on snapchat
how to make a public profile on snapchat
how to get a public profile on snapchat
how to have a public profile on snapchat