Here Below is a Guide To How to Make a Facebook Post Shareable
Facebook has become a central hub of the internet, where ideas can be shared. However, brands are becoming more important and individuals and companies must get their message out beyond their Facebook friends to make it visible to the rest of the world.
Your friends can view your posts by default. This protects your privacy and prevents a private message from reaching your boss, or potential clients. What if your post needs to be shared with as many people as possible? You can easily get your post to the point where everyone on the social media platform can view it, and then spread your message across the globe in just a few simple steps.
How to Make a Facebook Post Shareable

This can be done in one of two ways: you can make a new post shared by anyone or you can make an old post shareable retroactively. Let's begin with the easiest.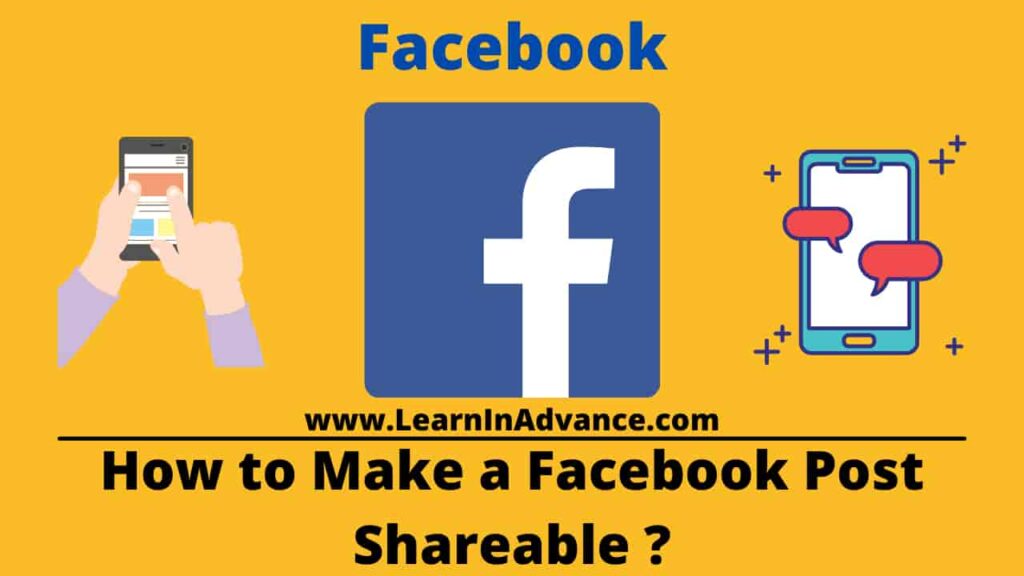 Open the Facebook app. Next, select the text box titled "What's on Your Mind?" There will be two drop-down options below your name, one labeled "Friends", and the other labeled "Album." Select "Public" from the first box. Select the first box and click "Public." Type a post that you wish to share, then click "Share." You can now make the post visible to anyone, regardless of whether they are your friend. You'll also get an increase in visibility if they share the link with others.
Share an older post more

After finding the post, click the three dots to the right of it and select "Edit Post." Select "Public" from the new page by selecting the drop-down menu under your name. To save the changes, click "Save" in upper-right corner.
Remember these things when you share on Facebook:

Certain items that you share on Facebook will remain public forever. If you make a comment on a thread that is public, your post will become public and everyone can see it.

The audience selector will use the same audience you have selected for your posts until you change it. If you select Public for your next post then all subsequent posts will be Public unless you change the settings.
If you change the audience of one device, it will update on all your devices. If you are trying to figure how to make a Facebook posting shareable from your phone, then any changes that you make to the post will also be applied to your desktop and laptop.

Your post will appear in your News Feed and on your profile. It also appears in search results.
It is not possible to post automatically to someone else's profile. He or she can control who sees that post.
Tag someone and their friends might also be able see the post or photo.
You may have some restrictions on the sharing options if you lock your profile.
How to post on facebook

First, log in to your profile with the email address you used to create your account.
Step 2: Posting to Facebook
You will find a window asking you "What's your mind?Click this box and start writing your post. You might share an image, such as a photo of your location when you wrote the post.
Step 3: Add an image to your Facebook Post

Add an image to your postClick on Photo/Video(See our How to Upload Photos to Facebook pageguide) You have the option to add multiple images or one image.You can add multiple pictures. Click the plus sign to open the box.
Step 4: Check in to your location

Next, tell your friends whereabouts you were when the photo was taken or the post was made.Click "Register". Start typing your location. Facebook will suggest places based on where you are located or have visited recently.
You can type the name of your place if there are no suggestions (e.g. "My Garden")
Step 5: Share your feelings with friends

It is possible to tell people more about your feelings at the time that you posted.Click on Feeling/ActivityYou will see a variety of emoticons.Choose the picture that best describes how you feel when you post.
Step 6: Additional information about posting

You can add their names to your posts if you had friends or family members with you.To do this, click "Tag Friends". A list of all your Facebook friends will appear.Click the people you want to include in the post. Your post will be labeled "with….And the name of one or more people you want to tag. Keep in mind that some people have chosen to block people from tagging them in photos or posts. If this is the case, their name won't appear in your list.

After you've created a post you love and added as much or little information as you wish, it's time to choose who will see it. Friends is the most popular setting.You can get everything exactly as you wish. Click Publish. Now you are done!
If You're a Digital Marketing Below Links Helps to Get Backlinks For Your Site:
Are You Looking For Backlinks For Your Website:
Tags:
how to make a post shareable on facebook
how to post on facebook
how to make facebook post shareable
how to make posts shareable on facebook
how do you make a post shareable on facebook
how to repost on facebook